Alpine X903D-OC3 - 9" Screen TomTom GPS Bluetooth Carplay/Android Auto Stereo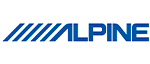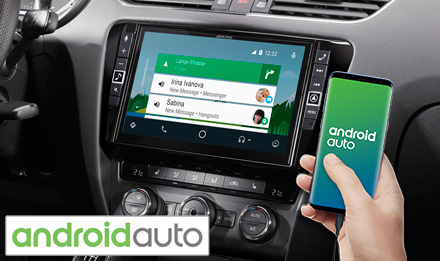 Apple CarPlay & Android Auto
Android Auto was designed with safety in mind. With a simple and intuitive interface, integrated steering wheel controls, and powerful new voice actions, it's designed to minimize distraction so you can stay focused on the road. Android Auto automatically brings you useful information, and organizes it into simple cards that appear just when they're needed. Apple CarPlay compatibility brings you a smarter way to use your iPhone on the road. Apple CarPlay gives iPhone users an incredibly intuitive way to make calls, use maps, listen to music and access messages with just a word or a touch. You can even enjoy Spotify, internet radio or podcasts while on the road for a truly connected experience.
Vehicle System Setup
The Skoda Octavia 3's radio display is used to show and set up vehicle settings and display warning messages such as low engine oil level. The Alpine system is fully compatible with the Skoda Octavia 3's electronic systems and can therefore display all menus and warnings (except original traffic sign recognition system).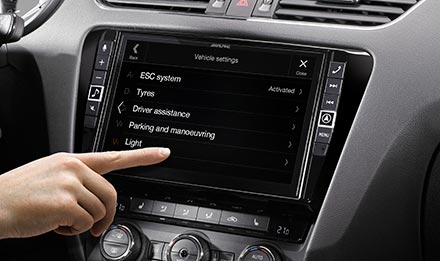 Built-in iGo Primo NextGen Navigation
The iGo Primo NextGen navigation is currently one of the best navigation software on the market. Combined with Alpine's powerful hardware and processing power, you get a highly accurate and super fast navigation system for your car. For example, calculating a route from Munich to Paris takes just a few seconds. The system is packed with tons of useful and unique navigation features, from partial address input with automatic detection, TMC route guidance, 3D landmark icons and much more. It also includes hundreds-of-thousands of POIs, to make it easy to find restaurants and any kind of public places near you.
Alpine introduces the 2nd generation Alpine Style system for the Skoda Octavia 3 (Model Code 5E, 2012 and newer): get perfect system integration in your Skoda, paired with the latest features. Only Alpine offers the biggest screen size possible (9-inch), as well as extensive media options including Apple CarPlay and Android Auto compatibility, and cutting edge iGo Primo Nextgen navigation with TomTom maps. You also get high-end sound quality and sound tuning options with this great system.
Tuner
Memory Pre-sets: Preset Stations (FM: 24 / MW: 6 / LW: 6)
Memory: Auto Memory
Seek Mode: Local / DX Selection
RDS
RDS Functions: PI, PS, AF, TA, TP, PTY, NEWS, RADIO TEXT
DAB Tuner
DAB+ Tuner Built-in
DAB+/DMB Supported
DAB+ Slideshow Service
DLS (Dynamic Label Service)
DAB Service Following
RDS Fallback (where available)
Service Pre-set: 18 Pre-set Memory
Auto Ensemble/Service Memory
Service Search Function
PTY Search Function
Alphabet Search Function
Antenna Power Supply Selection
BLUETOOTH®
Built-in BLUETOOTH® Module
Wide Band Speech Technology
HFP (Hands-Free Profile) Compatible
Streaming Music: A2DP (Advanced Audio Distribution Profile) Compatible
Streaming Music Control: AVRCP (Audio / Video Remote Control Profile) Ver.1.5 Compatible
Advanced BLUETOOTH® Technology
Connection: SSP (Simple Secure Pairing) Supported
Individual Profile Connection Hands Free Phone and Music Streaming
Phone Book: Phone Book Synchronization
Speed Dial: 4 Pre-set Memory (per phone)
Multiple Phone Number Registration: 5 Phone Numbers can be stored for one name
Device Name Display
Auto Answer
Call History Display: Outgoing Calls / Incoming Calls / Missed Calls
Redial Function
Speech Volume Level Adjustment: Possible for Outgoing and Incoming Volume
DTMF (Touch-Tone) Function
Signal Strength Indicator
Battery Level Indicator
Menu Language Selection: 24 Languages
Firmware Updatable
Made for iPod® / iPhone®
Compatibility for iPod/iPhone: compatible with all models except 1st and 2nd generation iPhone
Connection: KCU-471i Required (Sold separately)
Music Playback
Available Selections: Playlist / Artist / Album /Song / Podcast / Genre / Composer / Audiobook
Alphabet Search
Artwork Display
Direct Up / Down: Playlist / Artist / Album / Genre / Composer
M.I.X. (Shuffle) Play: Song, Albums, All
Repeat
Battery Charging
Connectivity
Works with Apple CarPlay (requires CarPlay enabled iPhone)
Works with Android Auto (Requires Android Auto enabled smartphone)
Navigation Functions
Map Coverage: 48 Countries (Western and Eastern Europe)
Menu Language: 29 Languages
Voice Guidance Language: 29 Languages for Voice Guidance, 15 Languages for Text-to-Speech (TTS)
Advanced Address Search
Post Code Search
Free Form Search
Partial Name Search
Advanced POI Functions
Smart Routes: Smart Routes using historic traffic patterns
Advanced Route Planning
Eco Route Search
7 Alternative Route Recommendation
Advanced TMC Mode
Map Display Mode: 2D Heading Up, 2D North Up, 3D
3D City Mode: 3D Building/Icon Display
Elevation Map Display: 3D maps with elevation mode
3D Motorway Junction View: Junction View with Sign Post
Drive Lane Suggestion
Tunnel Mode
Highway Mode
Voice Guidance Mixing
Text-to-Speech
Direct Phone Call from POI data
3 Positioning Sensors: GPS / Glonass, Gyroscope, Vehicle Speed Pulse
USB Media Connection
USB Connection: includes a special cable that connects the USB / AUX port
USB Connection: USB Extension Cable Included
Music Playback: MP4 compatible
File / Folder Name Search
Tag Info Search
Folder Up / Down
M.I.X. Random Play
Repeat
Sound Tuning
Bass Engine SQ
Bass Engine™ Pro
Subwoofer Level Adjustment
Subwoofer Phase Select
2 V High Voltage PreOut KTX-PRE1 Required (Sold separately)
Equalizer: Flat, Pops, Rock, News, Jazz, Electrical Dance, Hip Hop, Easy Listening, Country, Classical
Dual HD EQ (9-band Parametric Equalizer front/rear)
6 Channel Digital Time Correction
Digital Crossover Setting
Customized Sound Setting by Car Type
MediaXpander HD
Application Volume Level Setting
Sound Setting Data Download
Easy, Step-by-Step Sound Customization
Alpine TuneIt App ready
General
Power Output: 4 x 50 W High Power Amplifier
Advanced Power IC
Display: 9′′ Capacitive WVGA High Resolution Display
White LED Backlighting System
50/50 Split Screen: Left / Right Position Changeable
Control Type: Touch, Drag, Flick
My Favourites Function
Automatic Setting Change for 2 Users
High Grade Audiophile Design
3 PreOuts (2 V, Front / Rear / Subwoofer) KTX-PRE1 Required (Sold separately)
AUX-In: 1 A/V AUX Input 3.5mm (RCA)
Steering Wheel Remote Control Function
OEM Sub-display Function
Remote Control Ready
Navigation Guidance Mix
Camera Connection & Built-in Controls for Multi-View Cameras
Camera Guide Line Adjustment
Rear-view Camera Display Automatic Boot-up
Simple Mode & Info Mode Display Selection
Visual EQ
Live Contrast Adjustment
Menu Language: 24 Languages (for AV / Bluetooth), 29 Languages (Navigation Menu and Voice Guidance)
Clock
Auto Dimmer
Anti-theft security code
Firmware Updatable
Original Skoda Octavia 3 hands-free Microphone Connection
Power Antenna Lead
Remote Turn-On
HDMI Input (Alpine Special HDMI connector required)
HDMI Selector Interface KCX-630HD Ready
Engine Start-Stop unaffected
CAN Connection Interface Included
Ready for optional DVD Player DVE-5300
Map & Database
Online Map Update via alpine.naviextras.com
Featuring TomTom Maps
3 Years free of charge map update (multiple updates possible)
Installation
Includes installation brackets, wiring harness and CAN bus interface for complete installation.
How will you send my item?
We ship to addresses within the UK using Royal Mail and DPD couriers.


How much does delivery cost?
Royal Mail Standard - 2-3 Day non-tracked service - £3.99.
Royal Mail Tracked - 2-3 Day tracked service - £4.99.
DPD 2-3 Day - 2-3 Day tracked service - £7.99 .
DPD Next Day - Next working day tracked service - £11.99.
DPD Delivery - Non specific DPD service for larger/bulkier orders - £15.
Saturday/Sunday Service - Tracked service specified for Saturday/Sunday - £22.99.
For orders to UK Non-mainland and International destinations, there will be an additional charge at checkout. Please see below for more information.


How long does delivery take?
Depending on the delivery service you choose, delivery usually takes between 1-3 working days to mainland UK from the moment we despatch your order. Orders to UK non-mainland and international destinations can take longer.


When will you despatch my order?
Orders placed before 3pm are processed and despatched the same day (excluding bank holidays and weekends). Orders placed on weekends will be processed and despatched the following working day.
*Please note that international orders may require extra checks before we are able to despatch your order so timescales may vary.


Can I track my delivery?
Yes - Order tracking is offered as standard on all items, whether they are shipped via DPD or Royal Mail. You will receive your tracking information via email once we have despatched your order.


UK Non-mainland and International destinations.
Due to the UK leaving the EU, some of our delivery partners have changed the way we ship to international and offshore destinations. This means that for the time being we are unable to ship items to these locations.
We are still accepting orders to these destinations however delivery times and prices are not final. We will confirm via email once we know more from our delivery partner.
Shipping for all items to UK Non-Mainland and International destinations will incur a charge at checkout. This charge is not final and we may need to charge for additional postage if required.
Shipping to international destinations may require further security checks and I.D. may need to be provided by the cardholder. We reserve the right to cancel any orders where you are do not pass our security checks or do not pay for appropriate postage.
Please note that we are unable to ship some items outside the UK. To avoid any disapointment please contact us before making your order.


What do you class as UK Non-mainland?
Rep. Ireland, N. Ireland, Channel Islands, Jersey, Guernsey, Isle of Wight, Isle of Man and Scottish Highlands. If you are unsure whether your address is classed as UK Non-mainland please feel free to contact us and an advisor will be happy to help.
For any further enquiries with regards to your delivery please contact us on 020 8561 9845 and one of our adviser's will be happy to help.
I want to return an item
Unwanted Goods: In accordance with The Consumer Contracts Regulations (2015), you have a 14 working day 'cooling off period' in which you have the right to cancel your purchase and receive a full refund. The cooling off period starts on the day after the day on which you received the goods (does not include weekends). You are responsible for the cost of returning the item to us. For your own protection, we recommend that you send the parcel using a delivery service that insures you for the value of the goods.
Providing that unwanted goods are received back by us in "as new" condition, we will refund payment for the goods. We don't mind if you open the product to check it, however any used or damaged products will be subject to a 25% handling fee so please take care when opening your item. These refunds will be made within 30 days of return of goods. Should you wish to cancel your purchase within the 14 working days 'cooling off' period, please e-mail us at [email protected]
Please tell us your name and address, how your order was placed and any payment reference (ie Paypal) and the order number.
Should you cancel your purchase with this 14 working day 'cooling off' period, we will refund your payment in full via the method of payment. There will be no charges for cancellation within this 14 working day 'cooling off period'.
You are advised to wrap the product carefully to avoid damage. You are also advised to return goods by recorded delivery, registered post, or by courier. Proof of postage will not be accepted as proof of delivery. Please remember to include with the return your name and address, and a copy of your purchase receipt.

Manufacturer's warranty

: Beyond this 14 working day period, you are covered under the manufacturer's warranty which is typically 1 year. If your product becomes faulty during this period, you should contact our eSupport department, via the website, direct email or phone for a returns number. We will then arrange for your item to be repaired (or replaced, if appropriate with a new product) or provide details of the manufacturers local service centre.
PLEASE NOTE: ALL RETURNS MUST BE ACCOMPANIED BY A VALID ORDER NUMBER
To avoid unnecessary returns, our returns address will be provided with the Returns Number.
Airlift Warranty Managments:
Limited Lifetime Warranty for Air Lift Performance 3HTM, 3PTM or 3STM Air Management/Control system and Accessories purchased before 09/03/2021
2-Year Limited Warranty for Air Lift Performance 3HTM, 3PTM or 3STM Air Management/Control system and Accessories purchased individually on or after 09/03/202
4-Year Limited Warranty for Air Lift Performance 3HTM, 3PTM or 3STM Air Management/Control system and Accessories purchased with an Air Lift Performance front and rear suspension kit or four (4) Air Lift Performance Dominator Air Springs (purchased within 45 days of each other) on or after 09/03/2021
Airlift Warranty Bolt-on Suspenion:
1-Year Limited Warranty for Air Lift Performance bolt-on Performance Series and Slam Series suspension kits purchased individually before 09/03/2021
2-Year Limited Warranty for Air Lift Performance bolt-on Performance Series and Slam Series suspension kits purchased with a 3HTM, 3PTM or 3STM Air Management/Control System on or after 09/03/2021.
Airlift Warranty Compressors:
1-Year Limited Warranty for Air Lift Performance compressors purchased before 09/03/2021
90-Day Limited Warranty for Air Lift Performance compressors purchased on or after 09/03/2021