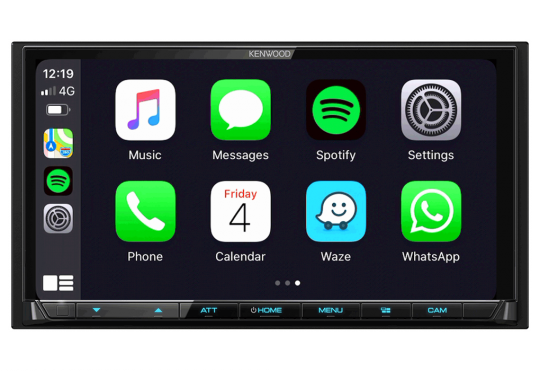 Apple CarPlay & Android Auto
is a safer way to use your iPhone in the car. Simply talk to Siri or touch the receiver's display to get directions from Apple Maps, make phone calls, listen to voicemail, send and receive texts, and listen to music from Apple Music or your favorite 3rd party streaming services like Pandora and Spotify, all in a way that allows you to stay focused on the road.
was designed with safety in mind, helping you to minimize distractions and stay focused on the road. KENWOOD's multimedia receivers combine an intuitive voice controlled interface with a large touch screen and superior sound quality, making it the perfect complement for your in-car life. You can even listen to and control music from your favorite streaming services like Pandora and Spotify. Navigate to where you need to with Google Maps or Waze.
Wireless & USB mirroring for Android
Wireless Mirroring is a groundbreaking solution for seamlessly displaying and controlling your smartphone apps on the receivers' large screen without cables. The feature is available on compatible Android phones. Some features, applications and services are not available in every region.
USB Mirroring for Android allows you to display and control your Android smartphone on the receiver screen via USB. You can enjoy your favorite apps on a large display with impressive sound quality. Before starting True Mirroring, just install the free app "Mirroring for KENWOOD" on your smartphone and connect it to the receiver via Bluetooth as well as a USB cable.

Three Camera Inputs
You can connect up to 3 camera's to this receiver: a rear camera with parking guideline support, the KENWOOD CMOS-320 (sold separately & controlled via the Camera Link) and a blind view (left/right) camera. The AV-input is assignable as 3rd camera input. Setting of camera type and display switching between 3 cameras can be operated easily via the receiver's large screen.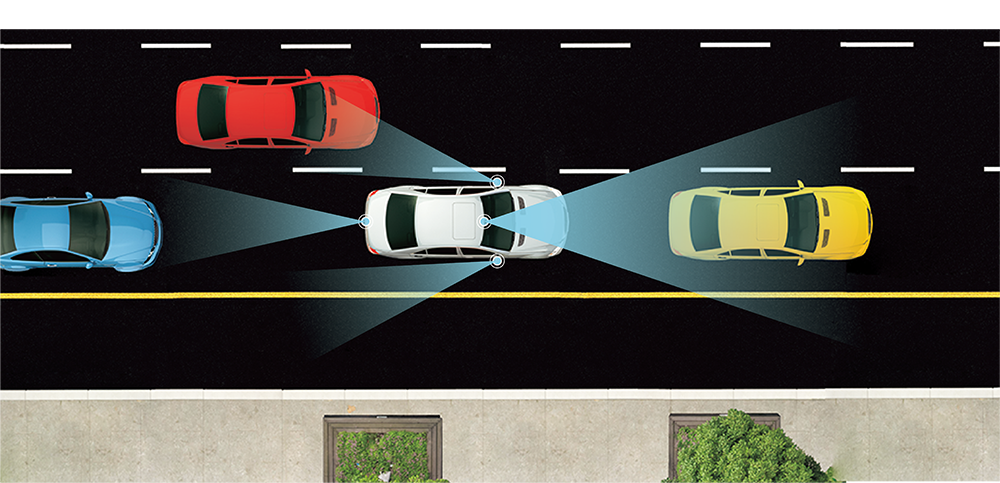 Key Features
7.0" WVGA with Capacitive Touch Screen
Wifi built-in
DAB+ Digital Radio & FM/AM Receiver
Bluetooth Hands Free & Audio Streaming
USB Wired and Wireless Apple CarPlay® Ready
USB Wired and Wireless Android Auto™ Ready
USB Wired and Wireless Mirroring for Android
up to 3 camera inputs
3 RCA high power (5V) preouts (front/rear/sub)
Compatible with High Res Audio
Digital Sound Processor, Time Alignment & 13-Band EQ
Dual High Speed USB 2.0 Port
General Features
DIN Size 2 DIN
Security Code Function (user set), Set by user
Smooth GUI
Selectable GUI Background Wallpaper
Key Illumination Variable colour
Installer Memory
Back-up Memory
Attenuator with Smooth Volume Return
Optional IR remote controller, (KCA-RCDV331)
Digital Clock (24H)
Bluetooth unit built-in
DAB Tuner Built-in
Works with Apple CarPlay
Works with Android Auto
USB 1 wire Mirroring for Android
Wireless Mirroring Ready, for Android
Firmware upgreadable
HDMI input for video playback
Dashcam Link
GPS input GPS & Glonass Antenna included
Monitor Features
Screen Type 7,0" Wide VGA
Display Mode 3 Mode (Full(default)/Auto/Normal)
Screen Adjustments
► Noon & Night Memory.
► Brightness.
► Tint.
► Colour.
► Contrast.
► Black Level.
► Backlight.
Dimmer function Manual/Sync
Dimmer Level Sync / On / Off
Visual Source Mode Mirorring / CarPlay / Android Auto.
Touch Panel Capacitive
Display Type Glare
Display film Anti-Fingerprint / Anti-Reflection / Anti-Glare)
LCD viewing angle control
"0" (Default) / "-1" / "-2" / "-3"
NTSC/PAL judge (Auto)
Multimedia GUI Features
► English(UK)(Default)
► English(US)
► Spanish
► French
► German
► Italian
► Dutch
► Russian
► Portuguese
► Chinese (Simplified)
► Chinese (Traditional)
► Thai
► Turkish
► Arabic
► Persian
► Hebrew
► Greek
► Malaysian
► Indonesian
► Polish
► Czech
► Hungarian
Software updates (SoC) via USB
Graphics Type Graphics
Spectrum Analyzer
Demonstration Mode
Top Menu Customize
Opening Screen Type standard
Background Customize
Preset x6:
► Static x4.
► Colour Customize x1.
► Sync Album Art x1.
► USER x2.
Wallpaper colour change
Picture in picture
Animation
Screen Capture
R-CAM interrupt
R-CAM Caution On Screen Display
R-CAM Parking Guide Lines
Front Camera Interruption
DashCam Control
Rapid charge indicator
Network & Wifi features
WiFi built-in
Frequency RangeDual Band (2.4GHz / 5GHz)
IEEE standard 802.11a/b/g/n/ac
Wifi connection for Apple CarPlay
Wifi connection for Android Auto
Wifi connection for Android Mirroring
Tuner Features
Station Select Manual / Preset (List)
Tuner Type Lithio
FM(RDS) + AM(MW/LW) Tuner
Tuner Presets (FM/AM) 20 Presets (15FM / 5AM)
Preset memory w/o back-up powe
Tuning mode
Up/Down Sek/Scan
Automatic Memory Entry (AME)
FM Stereo / Mono Selector
Radio Data Syste
Radio Text Pl
Traffic Information
Local search
AF Regional Selectable: AF/AF Reg/OFF
Auto TP search
Enhanced Other Networks Function (EON)
Program Type Function (PTY)
Bluetooth General Features
Module Murata
Hands Free Profile (HPF) V1.7
Hands Free Profile with High Sound Quality HFP V1.7
2 Phones Switchable Hands Free
2 phones fulltime connection
Audio Streaming (A2DP), (SBC/AAC)
High Quality Audio Streaming SBC/AAC
Max num. of regist. units for A2DP5 units
Serial Port Profile (SPP)
Simple Secure Pairing (SSP)
Phonebook Access Profile (PBAP)
Audio/Video Remote Control Profile (AVRCP), V1.6
Multi Profile Support
iPhone & Android automatic pairing via USB
KENWOOD Remote App Ready
KENWOOD Music Mix Support
Catchphone / Call Waiting
Private mode
Alphabet Search (Phonebook)
Noise Canceller
Echo Canceller
Phone device status display
Audio device status display
Signal strength display
Remaining battery display
High-quality noise cancelling microphone Included (rear wired)
USB Features
USB terminal, Rear USB 2.0 (Full Speed)
USB Type 2.0 High speed
USB extension cable supplied 2x 1 meter
Drive Change
Works with Android Auto
USB 1 wire Mirroring for Android
Tag Information Display
Album Art Display
Repeat/Scan/Random search
Repeat Play Folder/File/All
Random play Folder
Category search
Link Search
Resume play
Time code display
iPod Features
Made for iPod & iPhone *
USB Direct Control (Audio, 1 wire, Lightning-connector) with optional cable KCA-iP103
Album art support
Music library search
Alphabet search
Skip search
iPod Accessory Protocol (iAP) iAP2
iTunes Radio App iAP2
Works with Apple CarPlay Wireless or Wired via USB
Reverse browsing
Voice Control using Siri.
Bluetooth Auto Paring for iPhone
Battery charge + power control
* Always update to latest Apple firmware
Audio features
Max. Output Power (MOSFET Power IC) 4 x 50W
Pre-out 3RCA: Front/Rear/Subwoofer
Pre-out Output Level 5V
Volume Offset
2 Zone Control
Balance/Fader Control, (via DSP)
Loudness Control , By DSP
Bass Boost, (Via DSP)
Att.(-20dB) with smooth Volume Return
Digital Sound Processor (DSP)
Beep On/Off
Connectivity
iPod direct control
USB interface 2 x USB 2.0 (pigtail)
OEM Wired Remote Control ready, Optional interface needed
OEM Display Control ready, Optional interface (KIM) needed
Programmable OEM Steering wheel Remote Function
Display input/output control
DC-Cord Mitsumi to ISO
Parking sensor (handbrake) wire
Power Control (P.CON) wire
2-way (Tel/Navi) mute wire
Dimmer control wire
Speedpuls input wire
AV-Input 1x mini-jack (selectable: AV-in / Camera-in)
AV Output Video: RCA / Audio: mini-jack
Available AV-Out source AV-in / Off
Reverse sensor wire
Rear View Camera Input Dedicated RCA Video-in
Front View Camera Input selectable: Front / Dash-Camera-in
Multi View Camera Control Line
Dashcam Link
Amplifier pre-out 3 x RCA: Front/Rear/Subwoofer
3rd Party TV Control (Mini-Jack)
HDMI input Type A
GPS Aerial Input HRS GT5-1S connector
FM Antenna Input JASO connector
DAB Aerial input SMB connector
External microphone input 3,5mm mini-jack
Accessories
Release keys 2 pieces
Escutcheon
Installation Sleeve
DC cord (Mitsumi to ISO) n20 cm
usb extension cable 2 pieces, 1 meter
GPS antenna with 3.5 m cable
Handsfree Microphone with 3 m cable
Multi-Language Instruction Manual Included Quick-Guide + Instruction manual
Manuals Downloadable
How will you send my item?
We ship to addresses within the UK using Royal Mail and DPD couriers.


How much does delivery cost?
Royal Mail Standard - 2-3 Day non-tracked service - £3.99.
Royal Mail Tracked - 2-3 Day tracked service - £4.99.
DPD 2-3 Day - 2-3 Day tracked service - £7.99 .
DPD Next Day - Next working day tracked service - £11.99.
DPD Delivery - Non specific DPD service for larger/bulkier orders - £15.
Saturday/Sunday Service - Tracked service specified for Saturday/Sunday - £22.99.
For orders to UK Non-mainland and International destinations, there will be an additional charge at checkout. Please see below for more information.


How long does delivery take?
Depending on the delivery service you choose, delivery usually takes between 1-3 working days to mainland UK from the moment we despatch your order. Orders to UK non-mainland and international destinations can take longer.


When will you despatch my order?
Orders placed before 3pm are processed and despatched the same day (excluding bank holidays and weekends). Orders placed on weekends will be processed and despatched the following working day.
*Please note that international orders may require extra checks before we are able to despatch your order so timescales may vary.


Can I track my delivery?
Yes - Order tracking is offered as standard on all items, whether they are shipped via DPD or Royal Mail. You will receive your tracking information via email once we have despatched your order.


UK Non-mainland and International destinations.
Due to the UK leaving the EU, some of our delivery partners have changed the way we ship to international and offshore destinations. This means that for the time being we are unable to ship items to these locations.
We are still accepting orders to these destinations however delivery times and prices are not final. We will confirm via email once we know more from our delivery partner.
Shipping for all items to UK Non-Mainland and International destinations will incur a charge at checkout. This charge is not final and we may need to charge for additional postage if required.
Shipping to international destinations may require further security checks and I.D. may need to be provided by the cardholder. We reserve the right to cancel any orders where you are do not pass our security checks or do not pay for appropriate postage.
Please note that we are unable to ship some items outside the UK. To avoid any disapointment please contact us before making your order.


What do you class as UK Non-mainland?
Rep. Ireland, N. Ireland, Channel Islands, Jersey, Guernsey, Isle of Wight, Isle of Man and Scottish Highlands. If you are unsure whether your address is classed as UK Non-mainland please feel free to contact us and an advisor will be happy to help.
For any further enquiries with regards to your delivery please contact us on 020 8561 9845 and one of our adviser's will be happy to help.
I want to return an item
Unwanted Goods: In accordance with The Consumer Contracts Regulations (2015), you have a 14 working day 'cooling off period' in which you have the right to cancel your purchase and receive a full refund. The cooling off period starts on the day after the day on which you received the goods (does not include weekends). You are responsible for the cost of returning the item to us. For your own protection, we recommend that you send the parcel using a delivery service that insures you for the value of the goods.
Providing that unwanted goods are received back by us in "as new" condition, we will refund payment for the goods. We don't mind if you open the product to check it, however any used or damaged products will be subject to a 25% handling fee so please take care when opening your item. These refunds will be made within 30 days of return of goods. Should you wish to cancel your purchase within the 14 working days 'cooling off' period, please e-mail us at [email protected]
Please tell us your name and address, how your order was placed and any payment reference (ie Paypal) and the order number.
Should you cancel your purchase with this 14 working day 'cooling off' period, we will refund your payment in full via the method of payment. There will be no charges for cancellation within this 14 working day 'cooling off period'.
You are advised to wrap the product carefully to avoid damage. You are also advised to return goods by recorded delivery, registered post, or by courier. Proof of postage will not be accepted as proof of delivery. Please remember to include with the return your name and address, and a copy of your purchase receipt.

Manufacturer's warranty

: Beyond this 14 working day period, you are covered under the manufacturer's warranty which is typically 1 year. If your product becomes faulty during this period, you should contact our eSupport department, via the website, direct email or phone for a returns number. We will then arrange for your item to be repaired (or replaced, if appropriate with a new product) or provide details of the manufacturers local service centre.
PLEASE NOTE: ALL RETURNS MUST BE ACCOMPANIED BY A VALID RETURNS NUMBER
To avoid unnecessary returns, our returns address will be provided with the Returns Number.
Airlift Warranty Managments:
Limited Lifetime Warranty for Air Lift Performance 3HTM, 3PTM or 3STM Air Management/Control system and Accessories purchased before 09/03/2021
2-Year Limited Warranty for Air Lift Performance 3HTM, 3PTM or 3STM Air Management/Control system and Accessories purchased individually on or after 09/03/202
4-Year Limited Warranty for Air Lift Performance 3HTM, 3PTM or 3STM Air Management/Control system and Accessories purchased with an Air Lift Performance front and rear suspension kit or four (4) Air Lift Performance Dominator Air Springs (purchased within 45 days of each other) on or after 09/03/2021
Airlift Warranty Bolt-on Suspenion:
1-Year Limited Warranty for Air Lift Performance bolt-on Performance Series and Slam Series suspension kits purchased individually before 09/03/2021
2-Year Limited Warranty for Air Lift Performance bolt-on Performance Series and Slam Series suspension kits purchased with a 3HTM, 3PTM or 3STM Air Management/Control System on or after 09/03/2021.
Airlift Warranty Compressors:
1-Year Limited Warranty for Air Lift Performance compressors purchased before 09/03/2021
90-Day Limited Warranty for Air Lift Performance compressors purchased on or after 09/03/2021