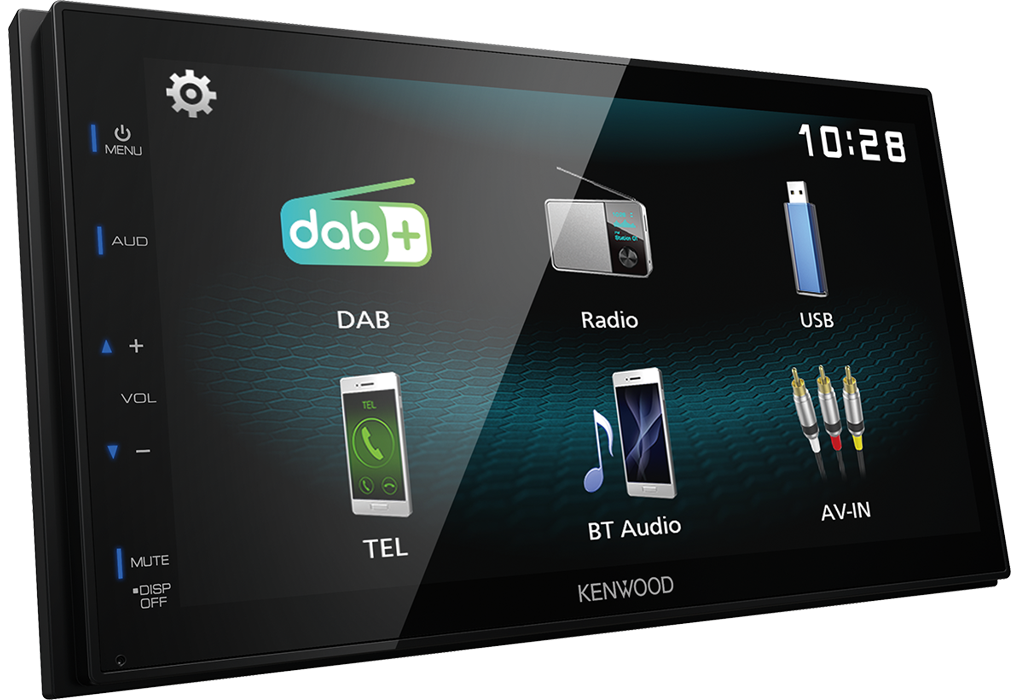 DAB Radio Built-in
KENWOOD's (DAB) Digital Radio car stereos continue to be at the cutting edge of digital radio, with entry level to high spec multi-line display models including Bluetooth hands-free and streaming technology. The digital tick is designed to give potential purchasers peace of mind that the product will perform all features of current & future digital radio specifications. All approved products displaying the digital tick mark include DAB, DAB+ and FM and have undergo rigorous testing including quality of reception, tuning and other DAB features.
Android USB Mirroring
It is a mirroring application that can display the screen of your Android smartphone on the KENWOOD car AV receiver. Operation is possible with the touch panel of the car AV which connected with USB.

DMX125DAB
Android USB Mirroring now included - Connect your Android smartphone via USB to mirror its display on the DMX125DAB system. Operate your Android applications with the DMX125DAB touch panel.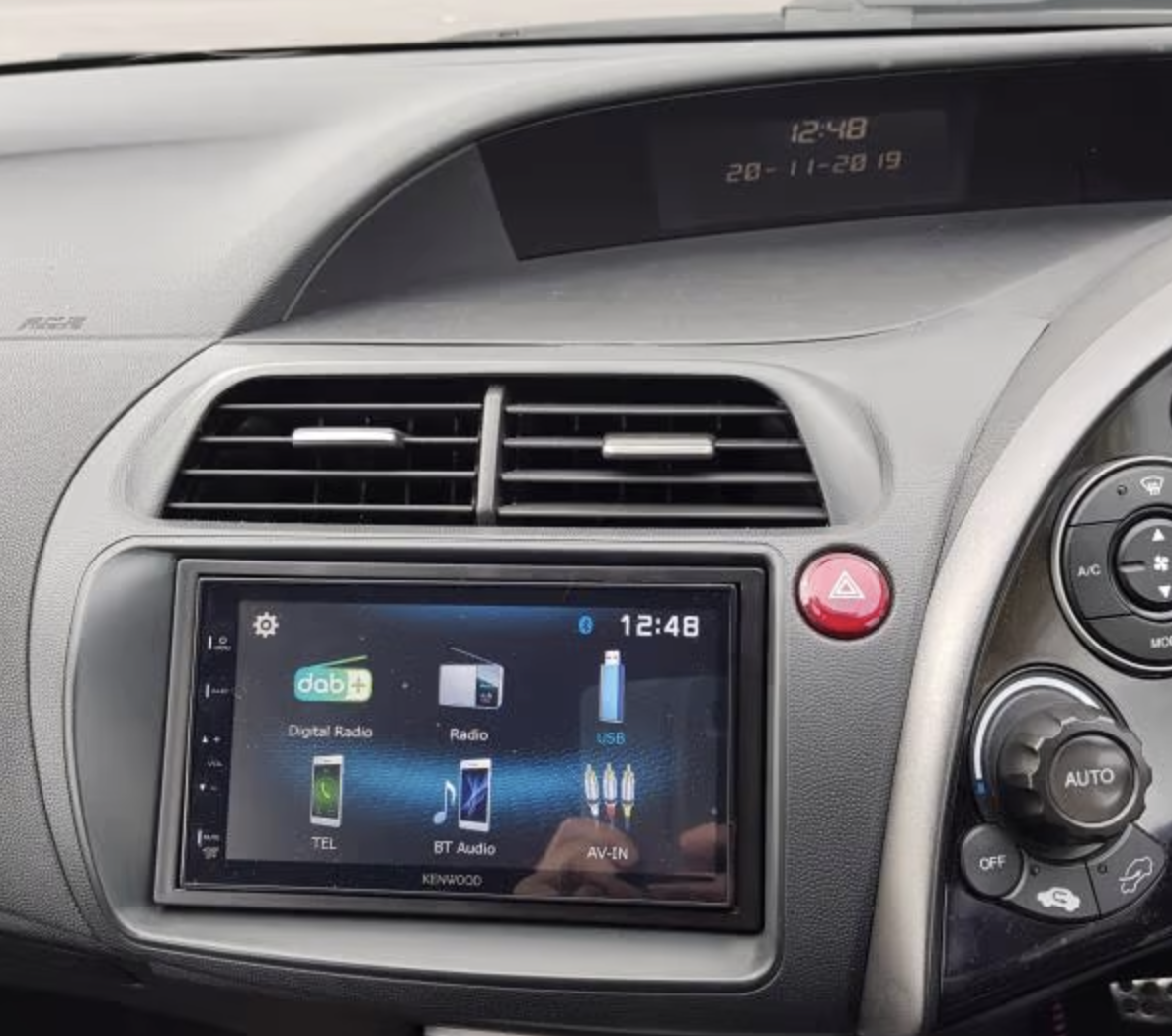 Key Features
Clear resistive 6.8" WVGA touch screen
Android USB mirorring ready
DSP / DTA /13 band equalizer
DAB+ tuner built in
3 preouts, (2.0V) (Front/Rear/Sub(mono))
AV-in, Video-out & RCAM-in
Bluetooth handsfree & audiostreaming built-in
Rear USB, 1A Charge
MP3, WMA, AAC, WAV & FLAC audio file playback
MPEG1/2 & MPEG4, H.264, WMV & MKV video file playback
Shortbody, only 75mm installation depth
General Features
DIN Size 2 DIN
Smooth GUI
Key Illumination Blue LED
Touch sensor
Touch Sensor Tone
Optional IR remote controller, KNA-RCDV331
Digital Clock (24H)
ISO connector
Bluetooth unit built-in
DAB Tuner Built-in
USB 1 wire Mirroring for Android
Monitor Features
Screen Type 6.8" Wide VGA
High Resolution VGA Display
LCD type 6,8 inch Wide VGA
LCD backlight LED
Display Mode
1 Mode: Full
Screen adjust: Brightness
Screen adjust: Colour
Screen adjust: Contrast
Touch Panel
Clear resistive
Display Type Glare
NTSC/PAL judge (Auto)
Display Off Mode
Multimedia GUI Features
OSDC Type Graphic
Demonstration Mode
Opening Screen Type standard
R-CAM interrupt
R-CAM Caution On Screen Display
Menu text in selectable language
English(Default), Espagñol, Français, Deutch, Italiano, Nederlands, Finnish, Russian, Português, Polski, Cestina, Magyar.
Tuner Features
Station Select
Auto / Manual
FM Reception
AM Reception, (MW Reception)
Tuner Presets (FM/AM) 30 Presets (18FM / 12AM)
Up/Down Seek/Scan
Automatic Memory Entry (AME)
Radio Data System
Traffic Information
Local search
Auto TP search
Enhanced Other Networks Function (EON)
Program Type Function (PTY)
CE DAB tuner features
DAB+ tuner built-in
Intelligent seek
Tuning mode / Seek mode Auto1/Auto2/Manual
Service preset 15 ch * 1 bank presets,
Alphabet Search
Traffic Information
DAB-DAB/DAB-FM auto switch
Time Shift
DLS (Dynamic Label)
PTY (Programme Type) search
PTY (Programme Type) watch
Announcement Switching (ASW) Select
Soft linking
Bluetooth General Features
Hands Free Profile (HPF) V1.6
Advanced Audio Distribution Profile (A2DP), (SBC)
Phonebook Access Profile (PBAP)
Voice Control
Noise Canceller
Echo Canceller
High-quality noise canceling microphone included
CE_Playable Audio file
AAC (*.m4a) files are playable USB
AAC (*.aac) files are playable USB
MP3 files are playable USB
WMA (.wma) files are playable USB
WAV (.wav) files are playable USB
FLAC files are playable USB
CE_Playable Video file
MPEG1/2 files are playable USB
MPEG4 files are playable USB
WMV files are playable USB
H.264 files are playable USB
mkv files are playable USB
USB Features
Rear USB Terminal
USB Type 2.0 Full speed
MP3 playback with ID3 Tag Display
WMA (Windows Media File) playback
AAC (Advanced Audio Codec) playback
MPEG1 Video decoder
MPEG2 Video Decoder
MPEG4 Video Decoder
Repeat/Scan/Random search
Repeat / Random Play
1A Charge Capability for Smartphone.
Audio features
Max. Output Power 4 x 50W
Max. Output Power (MOSFET Power IC) 4 x 21W
Pre-out 3RCA: Front/Rear/Subwoofer
Pre-out Output Level 2V
Subwoofer Reference Level Adj.
Balance/Fader Control
Beep On/Off
Multimedia DSP Features
DSP Chip AK7601
Position Control
Position Preset 4 Presets
Graphic Equalizer 13 bands
G-EQ manual setting
Time Alignment
0cm ~ 610cm
High Pass Filter (HPF) Yes (Front/Rear/Center)
HPF Cut Off Frequency 14
HPF Cut Slope Level 4 steps
Low Pass Filter (LPF) (Non-Fading)
LPF Cut Off Frequency 14
LPF Cut Slope Level 4 steps
Cross-over
Source DSP Memory
Speaker Size Control
Channel Level Control
Loudness
Tweeter volume
Bass Boost
Video Features
Audio Video Output
Audio/Video Input
Video-In for Rear-view Camera
1 dedicated video input (RCA)
Connectivity
USB interface
OEM Wired Remote Control ready
Parking sensor (handbrake) wire
2-way (Tel/Navi) mute wire
AV-Input (Non Switchable) (RCA)
AV Output Video only (RCA)
Reverse sensor wire
Rear View Camera Input
Tuner Specifications
FM Antenna Input
DAB Aerial input SMB connector
External microphone input
Tuner Specifications
FM range: 87.5Mhz - 108MHz (50Khz step)
FM Usable Sensitivity 12.2μV/75ohm (S/N 26dBf)
FM Quieting Sensitivity 19.2μV/75ohm (S/N 26dBf)
FM Frequency Response 30Hz ~ 14kHz (± 3dB)
FM Signal to noise ratio (Mono) 55dB
FM Selectivity(DIN) over 70dB (±400kHz)
MW range: 531kHz - 1611kHz (9kHz step)
DAB Tuner specifications
Band III - Frequency range 174.928 MHz - 239.2MHz
Mode I, II, III, IV
Sensitivity - 100dBm
Signal to noise ratio 90dB
Audio format MPEG1 Audio Layer II, MPEG4 HE-AAC V2
DAB Aerial Connector Type SMB
Bluetooth specifications
Technology bluetooth V2.1+EDR
Frequency 2.402 - 2.48 GHz
Output power +4dBm(max), 0dBm (AVE) power class 2
Maximum range Line of sight approx. 10 meter
Handsfree profile (HFP), V1.6
Advanced audio distribution profile (A2DP), V1.2
Audio Codec SBC
Audio/Video remote control profile (AVRCP) , V1.3
Phonebook access profile (PBAP), V1.1.1
USB Specifications
USB Version compatibility 2.0 Full Speed
File System FAT 16/32
Maximum Supply current 1000mA
D/A Converter 24bit
MPEG1 Decoder MPEG-1 with MPEG Audio Layer 2
MPEG2 Decoder MPEG-2 with MPEG Audio Layer 2
MPEG4 Decoder
MP3 Decode Compliant with MPEG-1/2 Audio Layer-3
WMA Decode Compliant with Windows Media Audio
AAC Decode "m4a" & "aac" file encoded by AAC-LC format
S/N Ratio 99 dB (1kHz)
Dynamic Range 99dB
Audio Specifications
Maximum Power 50W x 4
Output Power (DIN45324,+B=14.4v) 21W x 4
Preout Level 2000mV / 10kOhm,
Preout Impedance ≤ 600Ohm
Speaker Impedance 4Ohm ~ 8Ohm
Graphical Equalizer 7-Band
G. EQ. Frequency (Hz) 62,5Hz - 16kHz
G. EQ. Gain (dB) -7 / ... / +7
Low Pass Filter Frequency (Hz) 80 / 120 / 160 / Off
Video Specifications
Color System of External Video Input NTSC/PAL
External Video Input Level (RCA) 1 Vpp / 75 Ohm
External Audio Max. Input Level (RCA) 1.8 V / 10 kOhm
Monitor Specifications
Screen size (Diagonal) 6.75 Inches Wide
Screen Size (WxH) 151.8 x 79.7mm
Display system Transparent TN LCD Panel
Drive system TFT Active Matrix System
Number of Pixels 1152000pixels (800(H) x 480(V) x RGB)
Effective pixels 99.99%
Pixel arrangement nRGB Striped
Back lighting LED (Light Emitting Diode)
General Specifications
Operating voltage 14.4V (10.5 ~ 16V Allowable)
Maximum Current Consumption 10A
Dimensions (WxHxD) 182 x 112 x 74.5mm
Weight 900 gr.
Operation Temperature Range -10°C ~ 60°C
Accessories
Release keys 2 pieces
Escutcheon
Installation Sleeve
Handsfree Microphone with 3 m cable
How will you send my item?
We ship to addresses within the UK using Royal Mail and DPD couriers.


How much does delivery cost?
Royal Mail Standard - 2-3 Day non-tracked service - £3.99.
Royal Mail Tracked - 2-3 Day tracked service - £4.99.
DPD 2-3 Day - 2-3 Day tracked service - £7.99 .
DPD Next Day - Next working day tracked service - £11.99.
DPD Delivery - Non specific DPD service for larger/bulkier orders - £15.
Saturday/Sunday Service - Tracked service specified for Saturday/Sunday - £22.99.
For orders to UK Non-mainland and International destinations, there will be an additional charge at checkout. Please see below for more information.


How long does delivery take?
Depending on the delivery service you choose, delivery usually takes between 1-3 working days to mainland UK from the moment we despatch your order. Orders to UK non-mainland and international destinations can take longer.


When will you despatch my order?
Orders placed before 3pm are processed and despatched the same day (excluding bank holidays and weekends). Orders placed on weekends will be processed and despatched the following working day.
*Please note that international orders may require extra checks before we are able to despatch your order so timescales may vary.


Can I track my delivery?
Yes - Order tracking is offered as standard on all items, whether they are shipped via DPD or Royal Mail. You will receive your tracking information via email once we have despatched your order.


UK Non-mainland and International destinations.
Due to the UK leaving the EU, some of our delivery partners have changed the way we ship to international and offshore destinations. This means that for the time being we are unable to ship items to these locations.
We are still accepting orders to these destinations however delivery times and prices are not final. We will confirm via email once we know more from our delivery partner.
Shipping for all items to UK Non-Mainland and International destinations will incur a charge at checkout. This charge is not final and we may need to charge for additional postage if required.
Shipping to international destinations may require further security checks and I.D. may need to be provided by the cardholder. We reserve the right to cancel any orders where you are do not pass our security checks or do not pay for appropriate postage.
Please note that we are unable to ship some items outside the UK. To avoid any disapointment please contact us before making your order.


What do you class as UK Non-mainland?
Rep. Ireland, N. Ireland, Channel Islands, Jersey, Guernsey, Isle of Wight, Isle of Man and Scottish Highlands. If you are unsure whether your address is classed as UK Non-mainland please feel free to contact us and an advisor will be happy to help.
For any further enquiries with regards to your delivery please contact us on 020 8561 9845 and one of our adviser's will be happy to help.
If you're not happy with your item or you've changed your mind.
Even though we're sure you'll be happy with your purchase, it's important that you are aware of how we deal with returns in the event that you need to send something back.
We understand how inconvenient it can be when you buy a product and aren't 100% satisfied with it. For this reason we have designed our returns policy to prevent any further inconvenience to you in these instances.
Under 14 days
You can return your goods for a full refund or exchange as long as you inform us of your intention to return the goods within 14 days of receipt, starting from the day after you receive your goods (Exclusions apply, see below.)
All return costs are down to the buyer and it is recommended that you return your items using a trackable method with appropriate insurance (if required).
Once we have approved your return, please ensure that you return the item within 14 days.
If a returns number is provided then please ensure that the parcel has this clearly marked.
Items need to be returned in "as new" condition in their original packaging. We don't mind if you open the product to check it, however any used or damaged products will be subject to a 25% handling fee so please take care when opening your items
After 14 days
We will not offer a refund after 14 days of you receiving your delivery unless your product is faulty.

Exclusions from our returns policy
As we're sure you'll understand, there are some products that we can't offer returns on due to their nature. These include:
Special order items (these items will be clearly identifiable).

Custom cut items.

Clothing

due to health and hygiene reasons.

Products that include software which require activation.
Please note that these exclusions do not apply to items that become faulty.
If your product becomes faulty
We endeavour to get your items to you in fully working order, however in the event that your items do become faulty, please read below on what you should do next.
In a lot of cases with some products, faults can be fixed by performing some basic troubleshooting, so to prevent any further inconvenience to you we advise that you contact our Customer Service team who can guide you through some basic troubleshooting before sending items back.
Under 30 days
If your items become faulty within 30 days of delivery you are entitled to a full refund or exchange. Please contact our customer service centre who will provide necessary returns details.

Please send the items back with a cover note including a description of the fault and your original order number.

Once we have fully tested the item and confirmed the fault, we will process the refund or exchange including cost of carriage back to us (within reason).

If during our testing we cannot find a fault, no refund will be given and you will be charged for delivery of the item back to you.

After 30 days
After 30 days you will still be able to get your faulty items repaired or replaced within the manufacturers warranty and we will be happy to assist you with this. Please contact our customer service team to find out the best way to get your items repaired or replaced. Please be aware that after 30 days we will not cover you for any carriage costs.
Air Lift Warranty information
Click here for Air Lift warranty information.
PLEASE NOTE: ALL RETURNS NEED TO BE ACCOMPANIED BY A COMPLETED RETURNS FORM: DOWNLOAD
DONT HAVE A PRINTER? Just ensure you include the relevant information required on a note inside the return so that we can process your request.
I want to return an item
Unwanted Goods: In accordance with The Consumer Contracts Regulations (2015), you have a 14 working day 'cooling off period' in which you have the right to cancel your purchase and receive a full refund. The cooling off period starts on the day after the day on which you received the goods (does not include weekends). You are responsible for the cost of returning the item to us. For your own protection, we recommend that you send the parcel using a delivery service that insures you for the value of the goods.
Providing that unwanted goods are received back by us in "as new" condition, we will refund payment for the goods. We don't mind if you open the product to check it, however any used or damaged products will be subject to a 25% handling fee so please take care when opening your item. These refunds will be made within 30 days of return of goods. Should you wish to cancel your purchase within the 14 working days 'cooling off' period, please e-mail us at [email protected]
Please tell us your name and address, how your order was placed and any payment reference (ie Paypal) and the order number.
Should you cancel your purchase with this 14 working day 'cooling off' period, we will refund your payment in full via the method of payment. There will be no charges for cancellation within this 14 working day 'cooling off period'.
You are advised to wrap the product carefully to avoid damage. You are also advised to return goods by recorded delivery, registered post, or by courier. Proof of postage will not be accepted as proof of delivery. Please remember to include with the return your name and address, and a copy of your purchase receipt.

Manufacturer's warranty

: Beyond this 14 working day period, you are covered under the manufacturer's warranty which is typically 1 year. If your product becomes faulty during this period, you should contact our eSupport department, via the website, direct email or phone for a returns number. We will then arrange for your item to be repaired (or replaced, if appropriate with a new product) or provide details of the manufacturers local service centre.
PLEASE NOTE: ALL RETURNS MUST BE ACCOMPANIED BY A COMPLETED RETURNS FORM: DOWNLOAD
Christmas Returns Policy
Any product purchased between 25/11/22 and 24/12/22 will qualify for our extended returns policy.
If your purchase is made within this time you have until 01/01/2023 to inform us of your intention to return your items.
All orders placed within this time which are outside of the standard 14 day policy can only be returned for a credit. All credits need to be used within 90 days of issue.
Please ensure you inform our Customer Service team in writing or via email ([email protected]).
Any items being returned need be in brand new, unopened and unused condition.
All products must be returned to us within 14 calendar days after our Customer Service team have authorised a return.
Any promotional items received FREE at the time of purchase must also be returned, unused and unopened, otherwise the value of the promotional item will be deducted from the credit.
Please note: Our normal returns policy still applies on all orders if you are within the 14 day returns period.
Airlift Warranty Managments:
Limited Lifetime Warranty for Air Lift Performance 3HTM, 3PTM or 3STM Air Management/Control system and Accessories purchased before 09/03/2021
2-Year Limited Warranty for Air Lift Performance 3HTM, 3PTM or 3STM Air Management/Control system and Accessories purchased individually on or after 09/03/202
4-Year Limited Warranty for Air Lift Performance 3HTM, 3PTM or 3STM Air Management/Control system and Accessories purchased with an Air Lift Performance front and rear suspension kit or four (4) Air Lift Performance Dominator Air Springs (purchased within 45 days of each other) on or after 09/03/2021
Airlift Warranty Bolt-on Suspenion:
1-Year Limited Warranty for Air Lift Performance bolt-on Performance Series and Slam Series suspension kits purchased individually before 09/03/2021
2-Year Limited Warranty for Air Lift Performance bolt-on Performance Series and Slam Series suspension kits purchased with a 3HTM, 3PTM or 3STM Air Management/Control System on or after 09/03/2021.
Airlift Warranty Compressors:
1-Year Limited Warranty for Air Lift Performance compressors purchased before 09/03/2021
90-Day Limited Warranty for Air Lift Performance compressors purchased on or after 09/03/2021